Your team deserves the best code review tool
Your team reviews code every day but the process and tools suck. The default pull request experience leads to comments getting lost, unresolved issues, and long review times. Crocodile solves all that with thoughtful UI and workflows so that your team can review code efficiently and ship faster.
No credit card required 30-day trial · Free for open source · Sign-up in 2 minutes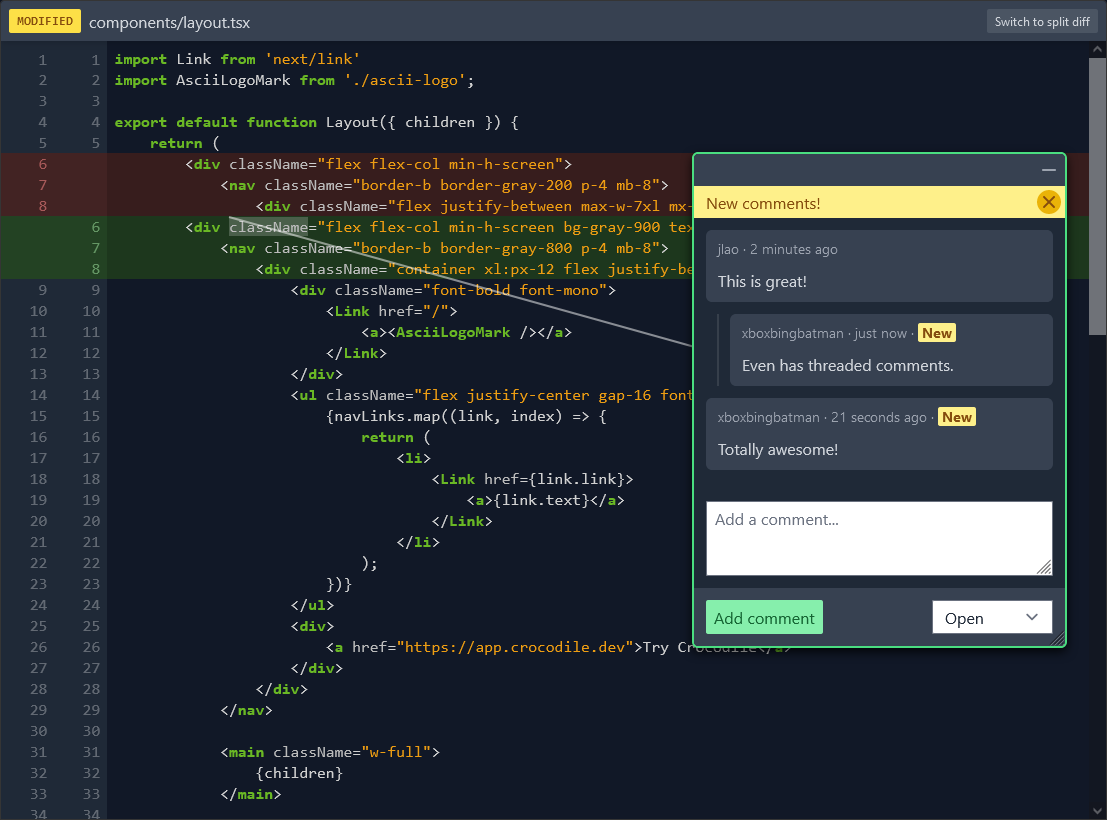 Comments as they should be
Crocodile doesn't limit you to commenting on lines that have changed. You can comment anywhere in the file and on any text selection, even if it's just one character.
Once you've made a comment, it goes in a draggable window that floats above the code. Other tools put comments inline, which breaks up the flow of code and makes it painful to review. Floating comments that you can reposition and hide help you stay focused.
Comments are never lost even if you change the code that was commented on. As new code gets pushed, Crocodile transfers comments across iterations so you never lose track of a conversation and everything gets resolved.
See the difference:
diff GitHub Crocodile
| | |
| --- | --- |
| GitHub | Crocodile |
| Comments get outdated after code changes, force pushes, and rebases, which leads to lost and unresolved comments. | Comments are never outdated or lost and get mapped across changes, force pushes, and rebases until they are marked as closed so that every issue is resolved. |
| Comments can only be made on whole lines, which makes it hard to point out specific issues, and they can only be made on or near lines that have changed. | Comments can be made on any selection of text anywhere in the file, even single characters, so it's always clear where the issue is. |
| Comments are displayed inline with the code, which makes it hard to review when there are long discussions. | Comments float above the code and can be repositioned so they never break the flow of code. |
| Noisy notifications for every comment cause people to ignore them, which leads to long review times. | Useful notifications that let you know it is your turn to act on a review. |
| Complicated UI for diffing iterations. Comments aren't shown on changed lines when diffing iterations. | Intuitive UI for diffing iterations. Comments are shown on all lines when diffing iterations. |
| Comments can only be unresolved or resolved so you can't differentiate between the author addressing the comment and the commenter being satisfied with the outcome. | Comments can be open, resolved, or closed to clearly indicate when something is an open issue, when the author has addressed it, and when the commenter is satisfied with the result. |
components/layout.tsx

components/button.tsx

package-lock.json

package.json

pages/index.tsx

tailwind.config.js
Track what changed
See what files have changed and track which you've reviewed.
1

1 day ago

2

4 hours ago

3

2 hours ago

4

10 minutes ago
Compare iterations
Compare iterations to see what changed since your last review.
Approved
icancsharply

just now on iteration 4

rustycrab

30 minutes ago on iteration 4
Waiting for author
goofygopher

1 hour ago on iteration 3
See where people stand
Everyone's reviewer status at a glance. See when they set their status and on what iteration.
And more…
GitHub integration
Install the Crocodile GitHub app on your repos to automatically create reviews from pull requests.
Comments view
Dedicated view that shows all the comments along with a preview of the code.
Notifications
Customizable notifications to let you know when a review needs your attention.
Code diffing
Switch between side-by-side or unified diff views.
Threaded comments
Fully threaded comments for deeper conversations.
Keyboard shortcuts
Navigate reviews quickly with keyboard shortcuts.